I've recently found time to work on my Pi Car and it is now in a mostly working state with one thing I haven't quite found yet.
It now has a webcam mounted on it and acts as a wireless access point with DHCP server. I went down this route for portability. This meant that I could easily create an Android App that controlled the movement of the car. This currently looks very similar to the application for my Bluetooth car (seen here) except that it runs on Android and connects over Wifi.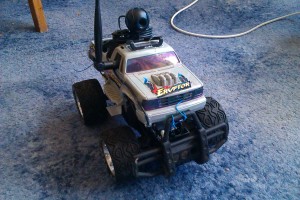 As you can see from the picture above the car now has a webcam mounted to it's top, this is currently streamed to a laptop using ffmpeg but I have future plans to stream to the Android App.
The Raspberry Pi primarily acts as a Wifi shield for an Arduino in the car which interfaces with the motors, as well as streaming the webcam.